USS McCain collision ultimately caused by UI confusion
USS McCain collision ultimately caused by UI confusion
Serving the Technologist for more than a decade. IT news, reviews, and analysis.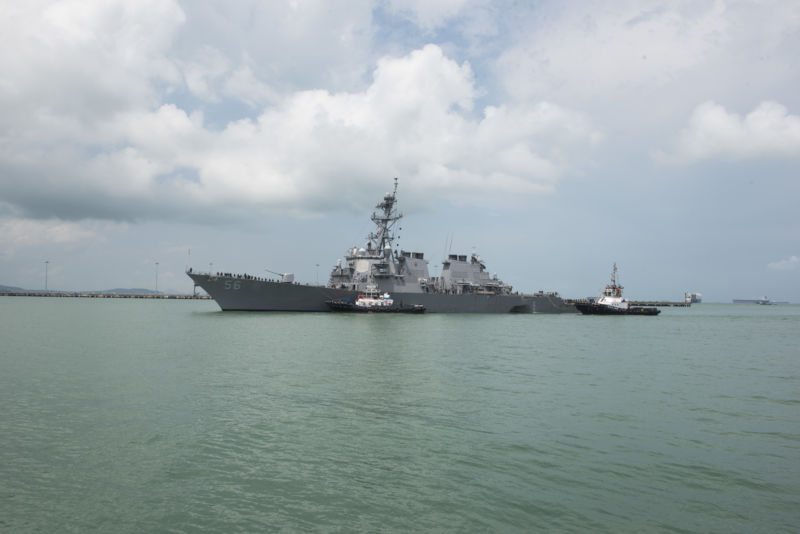 On November 1, the US Navy issued its report on the collisions of the USS Fitzgerald and USS John S. McCain this summer. The Navy's investigation found that both collisions were avoidable accidents. And in the case of the USS McCain, the accident was in part caused by an error made in switching which control console on the ship's bridge had steering control. While the report lays the blame on training, the user interface for the bridge's central navigation control systems certainly played a role.
According to the report, at 5:19am local time, the commanding officer of the McCain, Commander Alfredo J. Sanchez, "noticed the Helmsman (the watchstander steering the ship) having difficulty maintaining course while also adjusting the throttles for speed control." Sanchez ordered the watch team to split the responsibilities for steering and speed control, shifting control of the throttle to another watchstander's station—the lee helm, immediately to the right (starboard) of the Helmsman's position at the Ship's Control Console. While the Ship's Control Console has a wheel for manual steering, both steering and throttle can be controlled with trackballs, with the adjustments showing up on the screens for each station.
However, instead of switching just throttle control to the Lee Helm station, the Helmsman accidentally switched all control to the Lee Helm station. When that happened, the ship's rudder automatically moved to its default position (amidships, or on center line of the ship). The helmsman had been steering slightly to the right to keep the ship on course in the currents of the Singapore Strait, but the adjustment meant the ship started drifting off course.
CO ordered duties of helmsman split—but all of them got sent to another console.