"This is a very dangerous situation": Big Tech's day on the Hill
"This is a very dangerous situation": Big Tech's day on the Hill
Serving the Technologist for more than a decade. IT news, reviews, and analysis.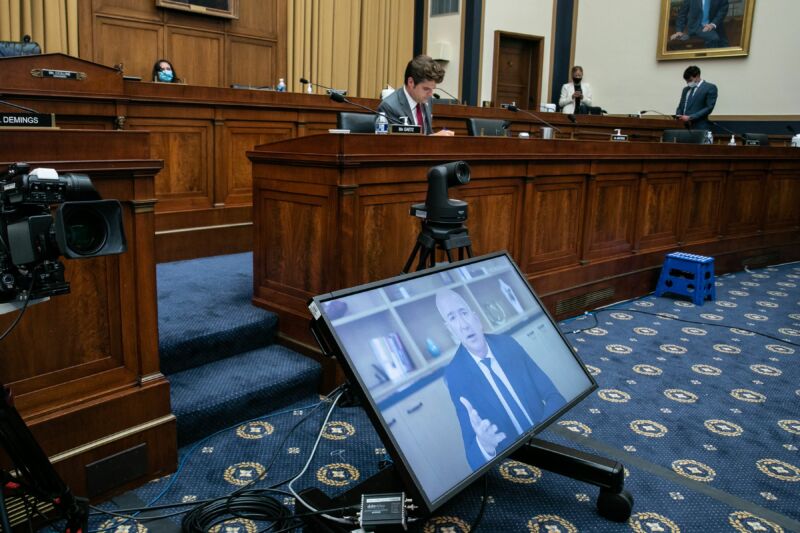 A bevy of tech's biggest titans—Alphabet CEO Sundar Pichai, Amazon CEO Jeff Bezos, Apple CEO Tim Cook, and Facebook CEO Mark Zuckerberg—all took to their remote offices Wednesday to dial into a hotly anticipated Congressional hearing, the latest part of an in-depth investigation into their firms' behavior that began more than a year ago.
The almost six-hour hearing was nominally convened to talk about antitrust enforcement, and it had two core questions at its heart. First: do the biggest, globe-spanning US tech companies have too much power in the market? And second: did they come by the power they do have honestly, or did they somehow cheat to get it?
House Antitrust Subcommittee Chairman Rep. David Cicilline (D-R.I.) focused his opening remarks on how bipartisan the investigation process has been to date before sketching out his belief that all four companies present have behaved anticompetitively, become monopolies, and caused harm both to consumers and the entire democratic project writ large.
Marathon session was nearly two different hearings, depending on party of questioner.