Surface Pro with 450Mbps LTE launching December 1, starting at $1,149
Surface Pro with 450Mbps LTE launching December 1, starting at $1,149
Serving the Technologist for more than a decade. IT news, reviews, and analysis.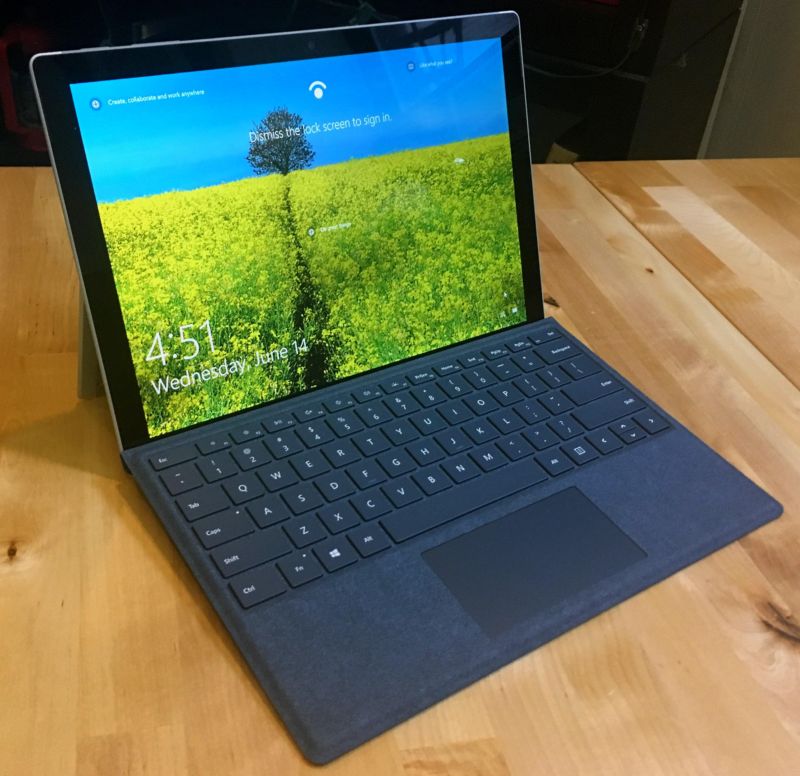 Microsoft already let slip most of the details of the Surface Pro with LTE back in September at its Ignite conference, but today at an event in London, Panos Panay, vice president of Microsoft Devices, formally launched the device and filled in a few of the remaining details.
The Surface Pro with LTE Advanced takes two configurations of the 2017 Surface Pro—both Core i5, one with 4GB RAM and 128GB storage, the other with 8GB RAM and 256GB storage—and adds to them a Category 9 LTE Advanced modem. Given a suitable phone network to connect to, this can offer up to 450Mbps download speed. The modem supports 20 different radio bands and as such should support LTE connectivity in most countries, provided that a suitable SIM is installed. Microsoft insists that LTE battery life will be substantially identical to that when using Wi-Fi, so long as you're only using one kind of connectivity at a time.
The LTE versions are being squarely positioned at business customers and what Microsoft calls a "new culture of work"; in particular, the company estimates that by 2020, some half of all workers will be mobile, to a greater or lesser degree, working not just in an office but at home, in airports, cafés, customer sites, or beyond. Even today, Wi-Fi connectivity is neither as ubiquitous nor as reliable as one might like (and security concerns about Wi-Fi in places like cafés and hotels will always be with us), and integrated LTE bridges that gap.
Read 1 remaining paragraphs | Comments
Microsoft is aiming the new version at the highly mobile business customer.