Puerto Rico power woes continue, a month after Hurricane Maria
Puerto Rico power woes continue, a month after Hurricane Maria
Serving the Technologist for more than a decade. IT news, reviews, and analysis.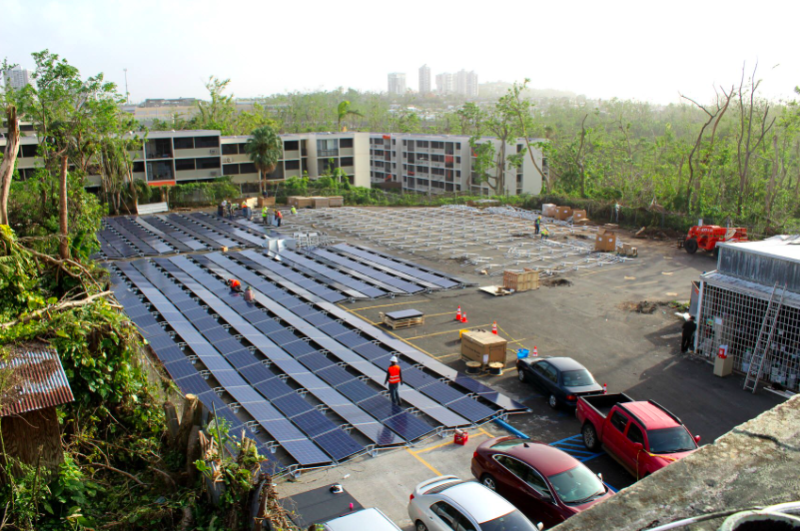 Two weeks ago, battery makers Tesla and Sonnen pledged to build microgrids and deliver batteries to hospitals and other critical infrastructure in Puerto Rico in the aftermath of Hurricane Maria, which wiped out power to nearly all of the island's electricity customers. Today, Tesla tweeted that Hospital del Niño, a children's hospital in Puerto Rico, was the "first of many solar+storage projects going live." The company didn't immediately respond to requests for comments on the size of the installation or how much it cost.)
But Tesla's not the only company working on putting renewable energy in Puerto Rico. In an e-mail to Ars, a Sonnen spokesperson Hilary Donnell said that the company's first microgrid in Puerto Rico would go live sometime next week, with 3 to 5 Sonnen microgrids serving communities on the island by mid-November.
Microgrids have often been cited as infrastructure to improve electric resiliency. They tend to be small, community-based systems that run on solar power, batteries, wind, or diesel generators, which can be quickly repaired and linked up to other microgrids in case of failure. In the aftermath of Superstorm Sandy in 2012, New York set aside $500,000 in grants to do feasibility studies for microgrid construction. Similarly, Puerto Rico seems enthusiastic to place microgrids where more traditional energy was once served. According to Bloomberg, Puerto Rico officials have talked not only to Tesla and Sonnen, but also to Arensis and Sunnova to discuss improving and privatizing parts of the commonwealth's public grid.
Still, only 20 percent of Puerto Rico's residents have power.