Now even YouTube serves ads with CPU-draining cryptocurrency miners
Now even YouTube serves ads with CPU-draining cryptocurrency miners
Serving the Technologist for more than a decade. IT news, reviews, and analysis.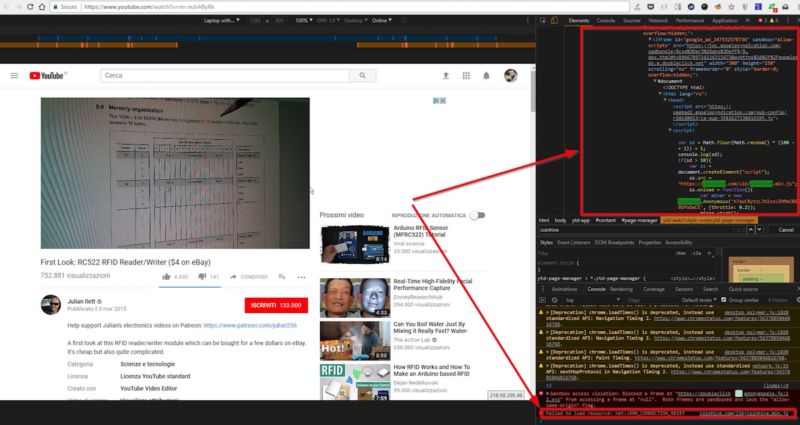 YouTube was recently caught displaying ads that covertly leach off visitors' CPUs and electricity to generate digital currency on behalf of anonymous attackers, it was widely reported.
Word of the abusive ads started no later than Tuesday, as people took to social media sites to complain their antivirus programs were detecting cryptocurrency mining code when they visited YouTube. The warnings came even when people changed the browser they were using, and the warnings seemed to be limited to times when users were on YouTube.
Great now my browser everytime I watch youtube… my anti virus always blocking coinhive because malware . Idk much about it but this is getting annoying and I need a solution please T n T

— Arung (@ArungLaksmana) January 23, 2018
Hey @avast_antivirus seems that you are blocking crypto miners (#coinhive) in @YouTube #ads
Thank you 🙂https://t.co/p2JjwnQyxz

— Diego Betto (@diegobetto) January 25, 2018
Por lo visto @YouTube es muy gracioso y no le bastaba con bajarnos la audiencia, ahora van y nos meten el JavaScript de Coinhive para utilizar nuestros dispositivos para minar Monero! De verdad, @Google! Que leeches estáis haciendo con YouTube?? pic.twitter.com/NzMUMlArJs

— ᛗ🦊ᛟErvoᛟ🦊ᛗ (@Mystic_Ervo) January 24, 2018
On Friday, researchers with antivirus provider Trend Micro said the ads helped drive a more than three-fold spike in Web miner detections. They said the attackers behind the ads were abusing Google's DoubleClick ad platform to display them to YouTube visitors in select countries, including Japan, France, Taiwan, Italy, and Spain.
Ad campaign lets attackers profit while unwitting users watch videos.