Microsoft overhauls its pricey Surface Laptop Studio with new CPU, GPU, and RAM
Microsoft overhauls its pricey Surface Laptop Studio with new CPU, GPU, and RAM
Serving the Technologist for more than a decade. IT news, reviews, and analysis.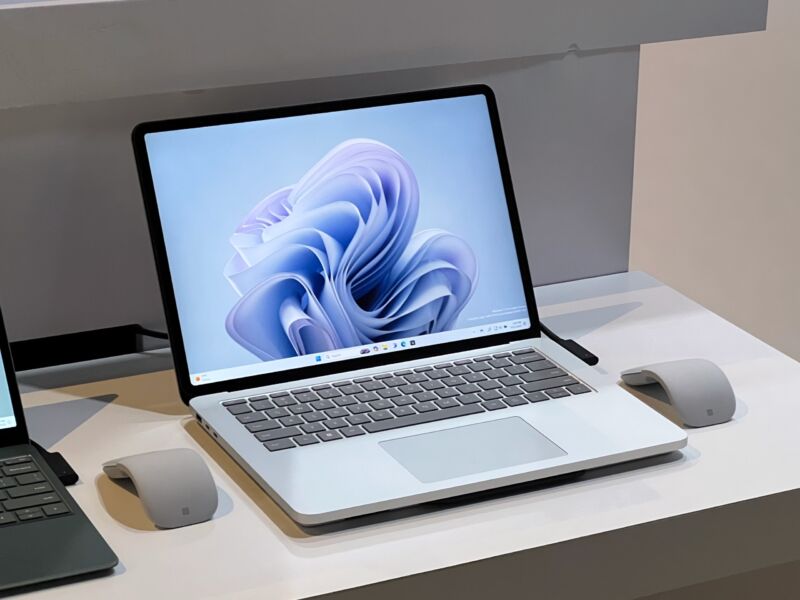 NEW YORK—Two years after announcing the original, Microsoft has announced a much-needed refresh of the Surface Laptop Studio, the company's convertible touchscreen laptop that also serves as its most powerful notebook for people playing games or doing any kind of 3D rendering or GPU-accelerated AI work. The new Laptop Studio 2 will start at $1,999.99 and is available for preorder now; it will ship on October 3.
Microsoft Surface Laptop Studio 2
The Laptop Studio 2 is a substantial internal overhaul, swapping out a quad-core 11th-generation Intel Core CPU and a GeForce 3050 Ti for a 13th-generation CPU and GeForce RTX 4050 and 4060 options (with an RTX 2000 also available for people who need a "pro" GPU). Microsoft continues to refresh Surface devices toward the end of Intel's product cycles, and next-generation Meteor Lake Core processors should be coming soon, but this is still a welcome upgrade over the old model. It's also the first x86 Surface that Microsoft sells with an NPU for accelerating AI and machine learning workloads, specifically an Intel Gen 3 Intel Movidius 3700VC.
New ports and updated internals are nice, but the price tag is tough to swallow. [credit:
Microsoft ]
Unfortunately, the base $2,000 version gets you very few of those perks. It includes an i7-13700H with six P-cores, eight E-cores, and 16GB of RAM, but it only comes with integrated graphics and a 512GB SSD.
Laptop launches October 3; starts at $2,000 and gets more expensive from there.