Desktop Outlook will get a redesign with the biggest changes happening on Macs
Desktop Outlook will get a redesign with the biggest changes happening on Macs
Serving the Technologist for more than a decade. IT news, reviews, and analysis.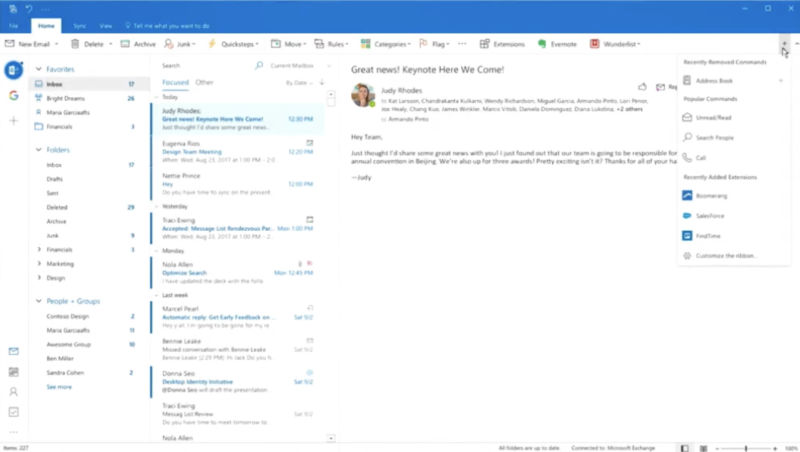 Microsoft has big design changes planned for Outlook on both the Windows and Mac platforms—but especially the Mac. In both cases, the new design direction borrows from Outlook for iOS. Microsoft gave a brief look at the coming updates during the Ignite conference a couple of weeks ago, and both The Verge and MSPoweruser dug into the changes.
Microsoft spent the most time talking about the Mac in terms of visual and UX changes, but the biggest change coming to the Windows version (pictured above) is a streamlined ribbon that is now just one line of commands, with a button right on the ribbon for adding or removing buttons and commands. You'll still be able to use the older, three-line ribbon if you prefer. Compared to some other mail applications, Outlook has a tendency to expose a lot of features right up front, which can make the interface seem cluttered to some sensibilities. Additionally, the Windows version adds an account-switcher sidebar on the far left that's lifted straight out of the iOS Outlook app.
For the Mac, we'll see a significant visual overhaul. While we liked the Office 365 version of Outlook for Mac, Microsoft acknowledged in the Ignite presentation that Mac users have complained that Outlook for Mac doesn't always follow common Mac software design principles. Some of those ideas have been applied here. But mostly, it looks like Outlook for iOS with features added that weren't available on Macs previously.
Read 4 remaining paragraphs | Comments
Microsoft will apply different design sensibilities for each desktop platform.