Are we on the verge of an 8K resolution breakthrough in gaming?
Are we on the verge of an 8K resolution breakthrough in gaming?
Serving the Technologist for more than a decade. IT news, reviews, and analysis.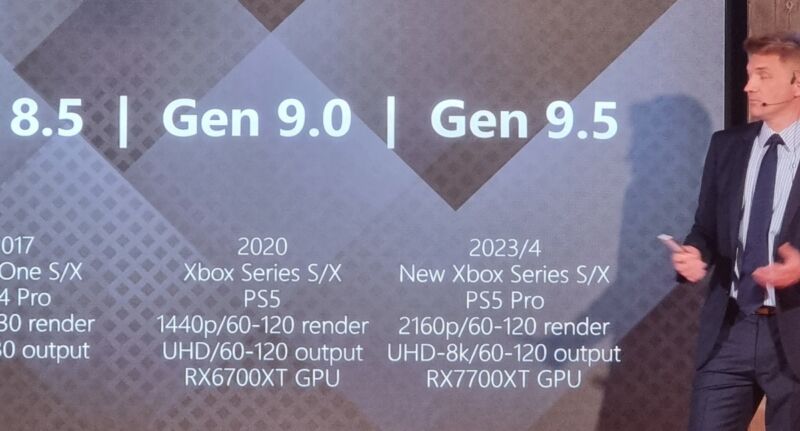 With the 2020 release of the Xbox Series X and PlayStation 5, we've started to see the era of console games that finally make full use of TVs capable of 4K resolutions (i.e., "Ultra HD" 3840×2160 pixels) that have become increasingly popular in the marketplace. Now, though, at least one TV manufacturer is already planning to support 8K-capable consoles (i.e., 7680×4320 resolution) that it thinks could launch in the next year or two.
Polish gaming site PPL reports on a recent public presentation by Chinese TV and electronics maker TCL. Tucked away in a slide during that presentation is a road map for what TCL sees as "Gen 9.5" consoles coming in 2023 or '24. Those supposed consoles—which the slide dubs the PS5 Pro and "New Xbox Series S/X"—will be capable of pushing output at 8K resolution and up to 120 frames per second, according to TCL's slide.
First off, there's little reason to believe that a lesser-known TV manufacturer has leaked the first official word of Sony and Microsoft's next console plans. As GamesBeat's Jeff Grubb points out, you can tell TCL is speculating on console makers' plans "because they put the information up in big letters on a stage. If the company knew what it was talking about, then it would be under a non-disclosure agreement."
Studies show extremely diminishing returns from pushing out even more pixels.