Amazon Key unlocks your door for in-home package deliveries
Amazon Key unlocks your door for in-home package deliveries
Serving the Technologist for more than a decade. IT news, reviews, and analysis.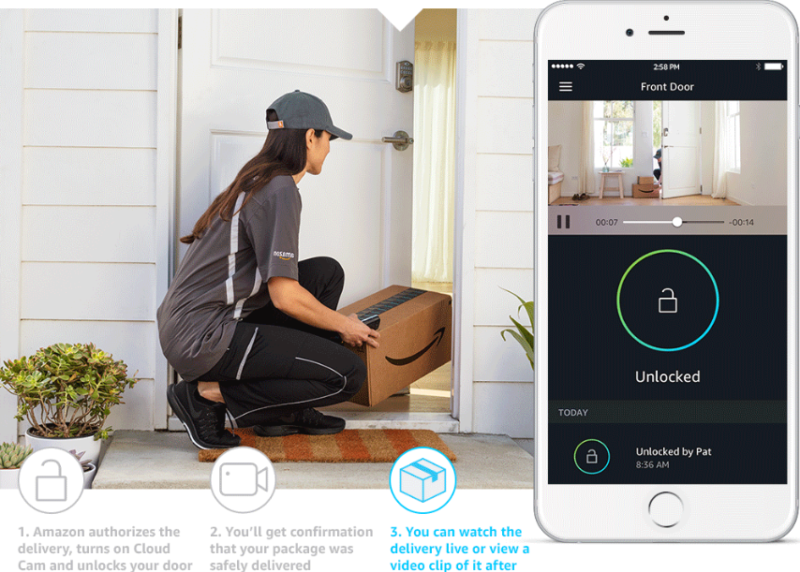 Today, Amazon announced yet another way for Prime members to get their packages. The new Amazon Key system allows delivery personnel to drop off packages inside Prime members' homes, providing "secure home access" when the homeowner is not available. Amazon Key works in two parts: choosing in-home delivery while checking out on Amazon and providing access to your home through Amazon's new Key in-home kit, which includes a smart lock provided by Kwikset or Yale and a special version of the company's new Cloud Cam security camera.
The old-school method of leaving a key underneath your doormat is inconvenient and often anxiety-inducing, so Amazon believes its new lock-and-camera system will make accessing your home when you're not around more secure. Prime members can purchase the Key edition of the Cloud Cam and a smart lock for a total of $249, and they can have it installed for free. With the lock on your door and the indoor security camera monitoring the doorway, the in-home kit can allow authorized people into your home.
Amazon delivery employees aren't given a passcode to enter the home; rather they request access into the home, and Amazon's records verify that the employee is at the right address at the right time. All of this is done through an encryption process, and once the process is complete, the Cloud Cam begins recording, and the door is unlocked for the employee to enter. Customers can stay on top of in-home deliveries with real-time alerts and by watching the video of the delivery either in real time or after it's completed.
Will you let Amazon be the gatekeeper to your home?